Don't miss out on this adorable stamp set called Garden Girl, she is one of the sets you can get today only on sale! I colored her with the new Stampin' Blends. Come back tomorrow and I will show you my finished card.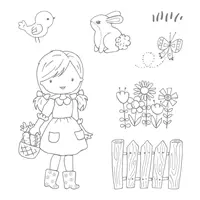 Item #143949 (w)  $21.60 or #143952 (c) $15.20
Monthly Reminders
Free Silver Metallic-Edge Ribbon – November's INKcentive
The Stampin' Blends are available NOW!
Class in the Mail – Basket of Wishes
Stampin' Blends Club – Get them all in 3 months with a free gift too!
Have a great rest of the day and thanks for stopping in.