November Class in the Mail – Cookie Cutter Christmas
November Christmas Card of the Month – Class in the Mail – Cookie Cutter Christmas
One Wild Ride Exclusive PDF and Video
OMG! I could hardly wait to get back to tell you about the new Stitched Shapes Framelits Dies.
Updated: These are flying off the shelves and are on back order…on November 21 the item number will be turned off so you can not even order them, that way SU! can replenish the stock…so run I say, run and get your order placed now.
You can order these amazing  Stitched Shapes Framelits before their official release in the 2017-2018 annual catalog NOW! And to make things even better, from November 1-30 select coordinating stamp sets are 25% off. Don't worry…you will still be able to purchase Stitched Shapes Framelits after November 30.
With Stitched Shapes Framelits you can make paper stitches in seconds, turning any project into one that is stitched from the heart. They are so cute right?
Download Stitched Shapes Framelits Dies Flyer
Earn Free Stamps and Shop Online: For your convenience, just click on any of the pictures below and you can shop online: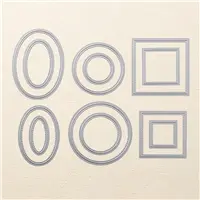 Save the dates for upcoming classes or events:
November Class in the Mail – Cookie Cutter Christmas (different cards than Christmas class)
Candy Cane Lane DSP Class – November 12
Christmas Card of the Month in Studio Class – November 19 – Cookie Cutter Christmas
Christmas Card of the Month Class in the Mail – Cookie Cutter Christmas
Christmas Bingo – in my Studio – December 10
Hello Lovely PDF Tutorial and Video – $9.95
One Wild Ride PDF Tutorial and Video – $9.95
Watercoloring PDF Tutorial – $3.95
Country INKers Retreat – Spring 2017 – April 21, 22, 23 & 24 – Ask how you can attend!  
 Have an awesome Wednesday and thanks for stopping in.