Would You Like to Join my Stamp Club?
7 page PDF – How to Watercolor with Ink Refills
August's Stamp Set of the Month ~ Class in the Mail – Bella & Friends or Pretty Kitty – Your Pick!
Exclusive Hello Lovely PDF and Video Tutorial – see how to get it for FREE!
August's Christmas Card of the Month ~ Class in the Mail ~ Snow Place
Thoughtful Branches Bundle – Limited Time Only!
Whatcha doing?
Me, I'm coloring…one of my fave things to do.
Stamp, stamp, stamp!
Color, color, color…then what is even better?  There is a matching thinlit for these cute birds so I don't have to fussy cut.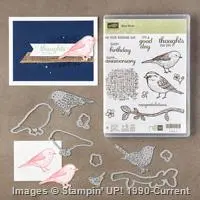 I will be back tomorrow to show you the finished card. I know what a tease eh?
Have an awesome Thursday and thanks for stopping in.