Would You Like to Join my Stamp Club?
7 page PDF – How to Watercolor with Ink Refills
June's Class in the Mail – Jar of Love
$5.00 Paper Pumpkin – today only!
Last night with  my downline I did a virtual meeting in our private FaceBook group, we do these every month, it makes us come together as a team no matter where we live, I love watching the girls (we don't have any guys on our team yet..hint! hint! for any of my guy readers!) connect. With the new FaceBook Live video this is the second month I have done a live make n take first and then my team can decide if they want a card packet to make their own version –  using inks and stamps they have at home.  They can choose to send the card back (tweaked and altered) to be voted on to have a chance at winning a goodie, or keeping the card, no stress, no obligation…just fun.
Today is the last day you can vote on last month's cards.
On the cruise ( I really need to blog our adventures don't I?) since we missed the ship we also missed the swap, but Stampin' Up! had it all figured out, after they took the display boards down we could pick 25 cards from the box, so that was fun. I really wanted the whole box but that would not have been fair.  One of the first cards I picked was this one…and it is Angie Juda's million dollar stamp set.  When you sell a million dollars you get to help design a stamp set.  I am still 350K away from that so I have plenty of time to think about it. Unless of course 12,500 of you need this darling set and then I will work on my chicken and duck set pronto…ha!
Thanks Angie for inspiring me and having such a cute doggie and bird. This is my version of Angie's swap.
Earn Free Stamps and Shop Online: For your convenience, just click on any of the pictures below and you can shop online:
There is also a cute kitty set as well if you prefer cats.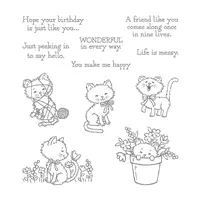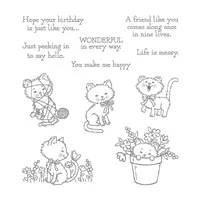 Have an awesome Thursday and thanks for stopping in.